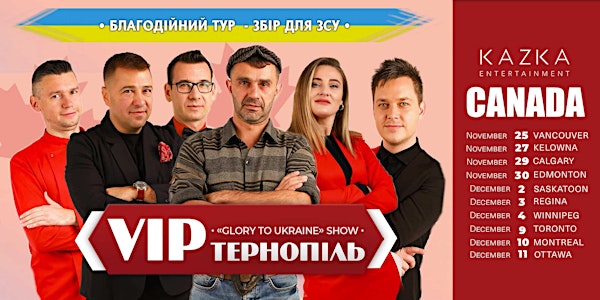 VIP Тернопіль | Великий Благодійний тур Канадою |
Великий Благодійний тур VIP Тернопіль Канадою - Збір на ЗСУ
When and where
Location
Ukrainian Canadian Institute Prosvita 777 Pritchard Avenue Winnipeg, MB R2X 0E8 Canada
Refund Policy
Contact the organizer to request a refund.
Eventbrite's fee is nonrefundable.
About this event
Вперше! Великий Благодійний тур VIP Тернопіль Канадою на підтримку ЗСУ з новою патріотичною програмою «Glory to Ukraine»!
10 міст Канади - 10 концертів!
Запрошуємо вас 4-го грудня на концерт у Вінніпезі!
Ukrainian Canadian Institute Prosvita
777 Pritchard Avenue, Winnipeg, MB, R2X 0E8
Неділя, 18:00
ALL AGES SHOW!!! Жодних вікових обмежень!
Програма Українською Мовою.
Вхід за донат. Усі виручені кошти будуть направлені на закупівлю авто, дронів та військової амуніції для Української армії.
VIP Тернопіль — одна з найвідоміших гумористичних команд України, неодноразові переможці «Розсміши коміка», півфіналісти 1-го та срібні призери 2-го сезонів Ліги сміху, актори і автори скетчкому «Країна У» (Віктор Гевко, Тетяна Песик, Тарас Стадницький) та сіткому «Одного разу під Полтавою» (Віктор Гевко), серіалу «Готель Галіція» - команда VIP Тернопіль з власним камеді шоу!
VIP Тернопіль — колектив, котрий від самого початку свого заснування просував український гумор!
Чекаємо вас на концертах! Чудова нагода відволіктися, розслабитися, а заодно й допомогти Україні!
Ваш квиток — це ваш внесок в допомогу, якої потребує Україна та незламна українська армія!
Разом до перемоги! Слава Україні!