WebDxD Demo Day 1705

Thursday, 29 June 2017 from 6:45 PM to 9:30 PM (PDT)
Event Details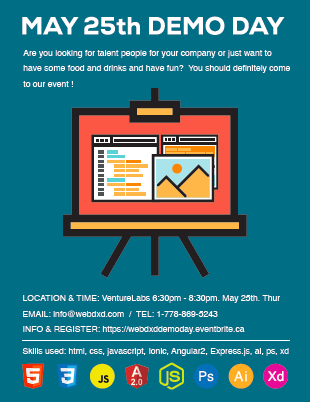 What is Demo Day
Demo day is a networking event that we host regularly for WebDxD students to showcase their projects to some of the best designers, developers and company recruiters in Vancouver. Food and nonalcohol drinks will be served during the event.
If you are seeking talent people for your company or just want to meet people who have the same interest as you, you should definitely hit the register button down below!
Why attend
1. Sharing experiences.
Attendees can meet and talk with some of the best developers, designers, entrepreneurs in Vancouver, listen to their advice and learn from their experiences
2. Hiring speed dating

Meet the employers and find the best job for yourself.
3. Projects Demo
Showcase your amazing idea to the employers, entrepreneurs, developers, and designers, build up your network.
Date: May 25th, 6:30 pm - 8:30 pm
Location: HackHub, #1200 - 555 West Hastings st (Downtown)
Demo Day Schedule
6:30pm
7:00pm
7:15pm
7:45pm
Groups of students in stations (booth)

Companies go around and ask questions

Companies vote 
8:30pm
Announce winner

Course completion certificate

Group picture

Event End
Project:
YamEgg
is an online tool to reduce communication cost for micro online businesses. Customers can browse product list, add it to cart and generate their orders in one QR code.
Skills Used: Ionic, Angular2, Express.js
U•Photo

A platform for connecting photography enthusiasts and individuals who want to to get the perfect photo.Through posting portfolios of previous works, photography enthusiasts can find suitable models as well as gaining more experience; individuals who want professional photographs can find photographers that match their style. Meeting new friends, through photography.
Skills Used: HTML, CSS, Javascript, Adobe Illustrator, Adobe Photoshop, Adobe Experience Design 
Everyone's Fashion
While people's lives are being fulfilled with more interesting things, we tend to be less satisfied with the simple things we have and chase after a better lifestyle. A traditional Chinese saying of the 4 fundamental elements of life "Yi, Shi, Zhu, Xing" applies here. "Yi" meaning clothing, which has two basic concepts: keep warmth and to look nice. From this traditional saying, we can extend out and conclude that modern fashion is mainly for practicality and beauty. Out product is focused on beauty. Even if we are from different countries, different culture, different environment, beauty is a common term used across the world. But now, the definition of beauty seem to be defined by a certain group of people, which in our case, we believe that beauty can be defined by anyone.
Skills Used: HTML, CSS, Javascript 
moneyTech
Based on blockchain technology, saving and borrowing with your chosen people of trust. Earn competitive interests on your account, share a social bond with your friends, and build a community for your finances.
Skills Used: HTML, CSS, Javascript
InVia
InVia provides one-to-one mentorship services, as well as informational/educational workshops on various topics, including (but not limited to) post-secondary school admissions, lifestyle, public speaking, and volunteering.
Skills Used: HTML, CSS, Javascript
JUNE CLOSET 
JUNE CLOSET is for people who are interested in building their own custom mad clothing starting from scratch. From fabric, colour, to the details in cutting design and pattern design. 
Sponsor
HackHub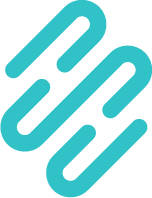 WebDxD
Vanjobs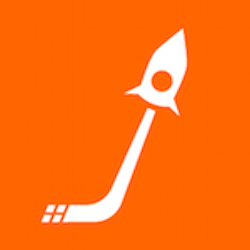 Terms & Conditions
I am aware that taking part in the upcoming HackHub events may involve various risks, dangers, and hazards including the risk of personal injury, death, or property loss from various causes including but not limited to: overexertion or lack of physical fitness or conditioning, defective equipment, dangerous or unsafe environmental conditions, consumption of alcohol in a social setting, negligence on the part of other members or persons participating in HackHub events, or negligence on the part of HackHub, and its executives, officers, agents and/or other representatives. I freely accept and fully assume all such risks, dangers, and hazards and the possibility of personal injury, death, property damage and loss resulting therefrom.
I understand that at this event or related activities, I may be photographed. I agree to allow my photo, video, or film likeness to be used for any legitimate purpose by the event holders, producers, sponsors, organisers, and assigns. I understand that any other person photographed or recorded and I will not receive any payment or compensation.
When & Where

555 W Hastings St
1200-555 West Hastings Street
Vancouver, BC V6B
Canada

Thursday, 29 June 2017 from 6:45 PM to 9:30 PM (PDT)
Add to my calendar
Organizer
About us
WebDxD provides an interactive learning experience on design and coding. Combining with our online platform, WebDxD delivers bootcamp-style classes to help university students gather hands-on experience. We connect our students to local startups and encourage them to work on their innovative ideas.