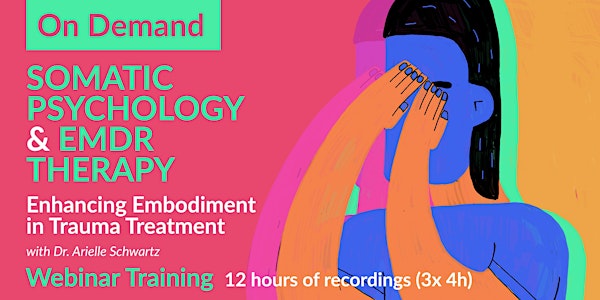 Webinar - Dr. Arielle Schwartz: Somatic Psychology and EMDR (Recordings)
Enhancing Embodiment in Trauma Treatment. Webinar training (Recordings). 3x4 hour sessions. 12 EMDRIA credits.
By Eliza Fernandes Therapy and Consultation
Refund Policy
Contact the organizer to request a refund.
Eventbrite's fee is nonrefundable.
About this event
Somatic Psychology and EMDR Therapy: Enhancing Embodiment in Trauma Treatment.
3 Sessions – Recordings
The live webinar training took place 15-17 October 2020 on the Zoom platform
Language: English.
with Dr. Arielle Schwartz
--
After the registration you will receive:
handouts (pdf file) with presentations
access to 3 recordings (4 hours each), 12 hours in total for the next 30 days since you registered
Quiz to complete if you want to qualify for 12 EMDRIA credits and receive the diploma - you have 30 days to do it!
----------------------------------
PROGRAM
Foundations of Somatic Psychology
The Theory and Practice of Somatic Psychology
Historical Perspectives and Somatic Therapies Today
A Unified Approach to Somatic Psychology
The Core Principles of Somatic Psychology
Grounding, Boundaries, Focusing, and the Satisfaction Cycle
The Science of Embodiment
Somatic Intelligence
Embodied Self-Awareness and Mindfulness (Experiential)
Intercorporeality and Embodied Culture
Trauma and the Body
The neurobiology of trauma: Beyond Fight and Flight
Polyvagal Perspectives: Mobilization and Immobilization
Implicit Memory and Preverbal Traumatization
Dissociation: Dysregulation, and the Window of Tolerance
Top-Down and Bottom-Up Processing Interventions
Implications for Therapy
A Biopsychosocial Approach to Client Care
Neuropsychotherapy and Trauma Treatment
Conscious Breathing and Nervous System Regulation (Experiential)
Integrative Approach to Trauma Treatment
Phase Based Treatment
Relational Therapy
Polyvagal Perspectives
Proximity Awareness
Parts Work
Differentiation from a Part
Building resources for a Part
CBT and EMDR Therapy
Socratic Inquiry
AIP
Dual Attention
Modified EMDR Protocols
Somatic Psychology
5-Stage Model for Embodiment in Trauma Treatment
Build Affect and Sensation Tolerance
Somatic Interweaves for Stuck Sensations
Special Topics
Acute Trauma
Chronic Illness and Pain
Trauma and Illness
Pain and Memory
Integration, Resilience, and Post Traumatic Growth
Existential Considerations
Fostering Resilience and Growth
Resilience and Embodied Self-Care
Somatic Approaches to Self-Care for Therapists
Somatic Countertransference and Vicarious Traumatization
The Burnout Continuum
Vicarious Resilience
Embodied Self-Care Practice (Experiential)
Discussion and Questions
At this 3-day live webinar, Dr. Arielle Schwartz offers an experiential workshop on Somatic Psychology and how it interfaces with evidence based trauma treatments. When clients suppress emotions, they can present somatically. Traditional approaches to therapy attend to the cognitive and emotional aspects of clients' lives, while the somatic experience is often left out of the room. "Talk therapy" can have limited effectiveness for clients with somatization symptoms, developmental trauma, dissociative defenses, or debilitating feelings of shame. It is therefore, important for therapists to become skilled at working with client's nonverbal and somatic communications. Interventions to enhance embodiment in trauma treatment expand the therapeutic experience beyond where words can take a client.
Somatic Psychology brings the body into therapy by highlighting physiological patterns and their influence on human behavior. In this workshop, you will learn the history of somatic psychology and foundational principles that underlie this work. Interventions are drawn from a wide range of somatic psychotherapy modalities including Integrative Body Psychotherapy, The Hakomi Method, Body-Mind Psychotherapy, Authentic Movement, Formative Psychology, Focusing, The Moving Cycle, Somatic Experiencing, and Sensorimotor Psychotherapy. Most importantly, you will be introduced to the underlying principles that comprise a unified approach to somatic psychology as a trauma treatment.
In this engaging and informative 3-day live webinar, by Dr. Arielle Schwartz, you will learn the science of embodiment and why somatic psychology is essential for helping clients work with dysregulated affect and arousal states that accompany PTSD. We will explore how to integrate body centered interventions into existing and evidence based trauma treatment approaches including relational, trauma focused CBT, narrative exposure, EMDR and parts work therapies. Throughout the 3-days, somatic interventions will be explored didactically and experientially allowing participants to experience first-hand the value of interventions that enhance embodiment in trauma treatment. Dr. Schwartz will discuss specialized treatment considerations that allow clinicians to address preverbal trauma memories, attachment trauma, somatization symptoms, and chronic pain. We conclude with a focus on somatic approaches to self-care for therapists to address vicarious traumatization and burnout.
Our learning objectives over the two days include:
describe at least three principles that are part of the unified approach to somatic psychology
recognize the key principles of somatic psychology including awareness, resourcing and self-regulation interventions.
discuss a phase oriented, evidence-based approach to trauma treatment as a structured approach to therapy
recognize how polyvagal theory provides an essential foundation of understanding arousal states as related to trauma reprocessing
explain how mutual regulation serves as a precursor to self-regulation in treatment
Identify how somatic counter transference deepens our understanding of therapist/client relationship
engage practical mind-body therapy tools to help clients feel resourced and prepared for trauma processing.
describe how to help clients build affect and sensation tolerance in preparation for trauma processing
recognize how working within the "Window of Tolerance" can help reduce the likelihood of re-traumatization
describe how "top-down" and "bottom up" interventions can speed up or slow down the pacing of trauma treatment
identify how holding patterns within the body can block the client's processing in Desensitization Phase in EMDR Therapy.
practice at least three interventions for working with somatic symptoms in trauma treatment
recognize how client's "parts" related to early developmental trauma can contribute to somatic symptoms
understand how to work with preverbal memories by attending to somatic sensations
identify self-care practices for therapists to manage somatic countertransference and vicarious trauma.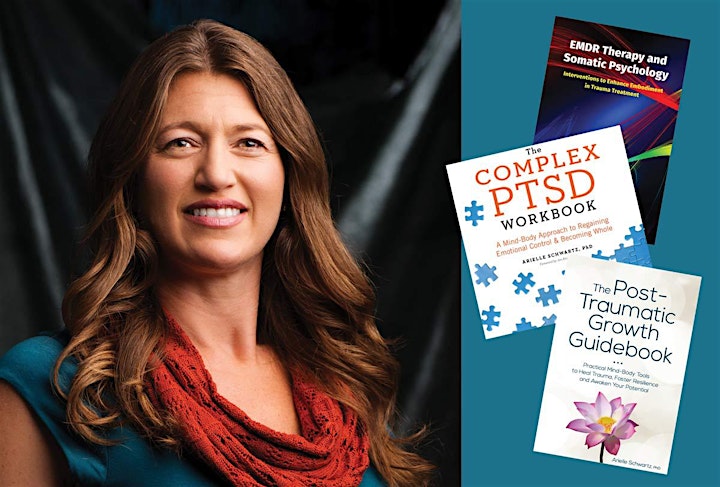 Dr. Arielle Schwartz, PhD
Dr. Arielle Schwartz, PhD is a licensed clinical psychologist, international speaker, EMDR Therapy consultant, and certified yoga instructor with a private practice in Boulder, Colorado. She earned her Doctorate in Clinical Psychology at Fielding Graduate University and holds a Master's degree in Somatic Psychology through Naropa University. She is the author of The Complex PTSD Workbook: A Mind-Body Approach to Emotional Control and Becoming Whole (Althea Press, 2016) and EMDR Therapy and Somatic Psychology: Interventions to Enhance Embodiment in Trauma Treatment (W. W. Norton, 2018). She is a core teacher with The Maiberger Institute offering Advanced Workshops on topics of EMDR Therapy, Somatic Psychology, Attachment Trauma, and Chronic Pain. Her psychotherapy practice is called resilience informed therapy; an integrative, strength-based approach to trauma treatment. Learn more at www.drarielleschwartz.com
--
Refund policy: no refunds
About the organizer
Trauma and Psychotherapy Services