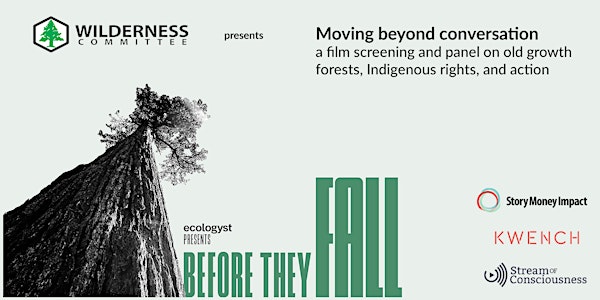 Wilderness Committee presents BEFORE THEY FALL
Watch this poignant film and join us for a discussion on the urgent issues surrounding old growth logging
When and where
Date and time
Wed, Feb 8, 2023 6:00 PM - 9:00 PM PST
Location
KWENCH 2031 Store Street Victoria, BC V8T 5L9 Canada
About this event
We respectfully acknowledge that this event is taking place on the unceded territory of the lək̓ʷəŋən People, known today as the Esquimalt and Songhees Nations.
When you register to attend the in-person event, your confirmation email will include all the details to attend the screening of the film, followed by the panel discussion. A casual reception will follow at the Kwench Bar. Street parking available.
When you register to attend the virtual livestream of the event, an email with the link to watch the live event (film and discussion) will be sent out beforehand to the email you registered with.
Moving beyond conversation – a panel on old-growth forests, Indigenous rights, and action.
Join us for a screening of BEFORE THEY FALL followed by an important panel discussion on the current issues – learn why taking action now is more important than ever! This event is for those who may have taken a pause since the headline-making news of the Fairy Creek blockade, for those who are interested in learning more about the issues around old growth logging and Indigenous land protection, or those who need to understand where things currently stand. Now is the time to regain momentum, get educated, and take action.
BEFORE THEY FALL synopsis: First Nations, conservation groups, and scientists have been fighting to protect the remaining old-growth forests in British Columbia for decades, but the conflict escalates when a logging company tries to access the last unprotected ancient watershed on southern Vancouver Island. Land defenders block the road to and hundreds of thousands join them. A telling illustration of decades of indigenous disenfranchisement, Before They Fall tells the story of the blockade at Ada'itsx (Fairy Creek) and points to the Indigenous voices calling out for defense of the land.
BEFORE THEY FALL features: TJ Watt, Dr. Suzanne Simard, Rande Cook, Rainbow Eyes, and Land Defenders at Fairy Creek
Film credits: Director: Cam MacArthur; Producer: Momme Halbe; Executive Producer: Rene Gauthier; Written by: Momme Halbe, Cam MacArthur
-
EVENT SCHEDULE
Wednesday Feb 8th, 2023 6pm-9pm
6pm-6:50pm introductions, watch 40 min film, 10 min break
7pm-8pm panel discussion and Q&A
Casual reception to follow at Kwench bar
PANEL DISCUSSION SPEAKERS:
Torrance Coste - National Campaign Director, Wilderness Committee
Rainbow Eyes - film participant, activist and Deputy Leader of Green Party of Canada
Rande Cook - film participant, Tree of Life / Awi'nakola Foundation
Moderator: Nikki Sanchez - Indigenous Media Maker, TEDX Speaker, Environmental Educator and Author
Register now, either for the in-person screening in Victoria, BC (limited tickets), or for the virtual livestream. This event is crucial to determine next steps on how you can make a difference.
Tickets by donation
Funds raised beyond the cost of the event will go to the Awi'nakola: Tree of Life Foundation.
The Awi'nakola Foundation was founded by a group of Indigenous knowledge keepers, scientists and artists brought together by a common commitment to create tangible solutions for the current climate crisis and educate others through the process. By sharing cross-disciplinary research practices, the group develops ways to heal the planet, heal the people, and change culture.
SPEAKER BIOS
Torrance Coste
National Campaign Director, Wilderness Committee
Torrance is honoured to lead the Wilderness Committee's campaign team, representing the organization with grassroot allies, Indigenous Nations, government, the media and the public. Torrance works mostly from unceded Coast Salish Territories, and lives with his family on the territory of the Malahat Nation. A major highlight for him is co-leading the Wilderness Committee's field program and being out on the land on Vancouver Island. Torrance grew up constantly encouraged to be outside, to learn to be comfortable in nature and in the woods, which has impacted him greatly. He is passionate about building connections across communities and advocating for environmental solutions that include justice and safety for all people. Torrance is also known to enjoy (very rare) heated Twitter exchanges. His love for nature takes him out hiking and camping every summer – he even got engaged on the West Coast Trail!
Rainbow Eyes
activist and Deputy Leader of Green Party of Canada
Hearing the call of the forest and following instructions from Elders of the territories, ancestors and spirit I have been a land defender of ancient forests on Vancouver Island, including the old growth forests of 'Ada'itsx (Fairy Creek), since 2020.
Also a Guardian for the Da'naxda'xw/Awaetlala First Nation and graduate of Vancouver Island University (VIU) First Nations Stewardship Technical Training Program, I worked for four years as a Guardian in Knight Inlet.
I have assisted in training future Guardians as a student support coordinator with the Nanwakolas Council Society and as a member of a research team to decolonize and help the VIU's Stewardship Technician Training Program to become more grounded in traditional values. I have ever growing experience with the Canadian legal system defending Indigenous values in activism work. After following Elders of the Fairy Creek community I found myself in the position of Deputy Leader of the Green Party of Canada. This position is now evolving into a position working to help the colonial system understand Natural & Indigenous Laws.
Rande Cook
Tree of Life / Awi'nakola Foundation
Rande has taken his lived experiences and skills as a multimedia artist and Hereditary Chief for the Ma'amtagila Nation in Kwakwaka'wakw Territory and bridged them with science through the Awi'nakola: Tree of Life Project. The project aims to heal the planet, heal the people, and change culture—starting with putting a halt to old growth logging in the area and regenerating second and third growth forests all while building community in the process.
Originally from the small village of 'Yalis (Alert Bay, BC), feeling a connection with the land is in Cook's blood. Not only is old growth logging detrimental to the diverse ecosystems in which coastal plant and animal species thrive, Cook says it's an erasure of his culture.
Awi'nakola (pronounced A-weet-nah-kyoh-lah) is a Kwak'wala word meaning "environment, including everything from the land to the ocean, and all the air in between." Cook often says, "Maya'xala xan's Awi'nakola." Respect the land, ocean, air, and all living forms. He explains it doesn't actually have a direct Anglo translation because it's simply a way of being for Kwakwaka'wakw peoples, of coming back to the land.
"So when our elders say this," Cook says, "it's the embodiment of respect and relationship to all living things. And bringing people together is that first step in building community." When people are in alignment with the land, the land and the people can heal.
Rande Cook resides with his family in Victoria, where he is inspired by new ideas every day. Cook continues to be involved in his community, culture, preserving Vancouver Island old growth rainforest, and as a public figure. He continues to hold his chieftainship and has hosted potlatch ceremonies for his family, celebrating culture and carrying on strong teachings while dedicating time in preserving his cultural roots. With knowing where his roots come from, Cook balances advancing his career so he may continue to share with the world his love for the arts and his love for his heritage.
Moderator: Nikki Sanchez
Indigenous Media Maker, TEDX Speaker, Environmental Educator and Author
Nikki Sanchez holds a Masters degree in Indigenous Governance and is currently completing her Ph.D. on emerging visual media technology as it relates to Indigenous ontology for climate change mitigation strategies.
A Pipil and Irish/Scottish academic, Indigenous media maker and environmental educator, Nikki is a regular panelist on CBC radio's the Early Edition and in 2021 she was selected as one of the HATCH 100's influential change makers and collaborators, who cross-pollinate to accelerate solutions for positive impact and to HATCH A Better World.
As the former David Suzuki Foundation's "Queen of Green" Nikki focused on environmental journalism, social and digital media to help drive sustainable solutions for a healthy planet. She also created content to bring more racial and gender inclusivity into the environmental movement. She is the creator and director of "Decolonize Together" a collective of Indigenous and black women who offer decolonial and anti-racism workshops and curriculum creation. Decolonize Together has been teaching and facilitating decolonization and anti-oppression training for universities, school boards, corporations, and NGOs.
-
If you wish to support more screenings promoting the use of film for impact, please donate here: https://www.storymoneyimpact.com/donate
Facebook: https://www.facebook.com/storymoneyimpact
Instagram: https://instagram.com/storymoneyimpact
Twitter: https://twitter.com/smifilmsociety
This event is brought to you in partnership with Story Money Impact and The Wilderness Committee
Sponsored by Kwench and Stream of Consciousness
With thanks to our program funders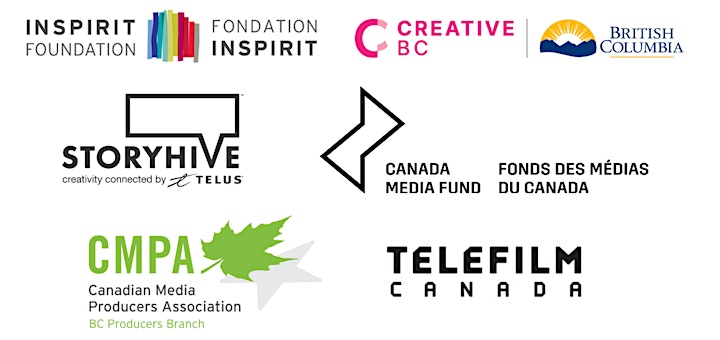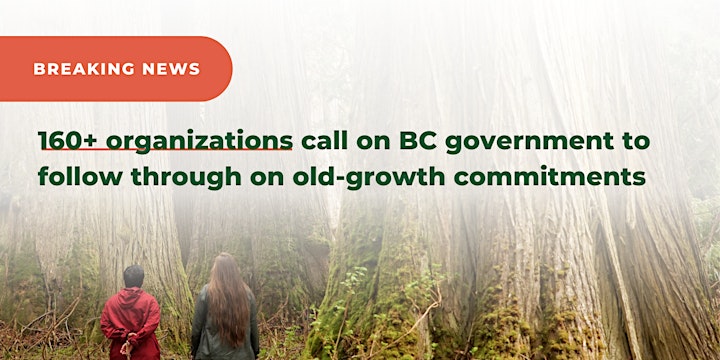 Hundreds of organizations across BC are calling for action on February 25th in Victoria, BC. Read the full press release from the Wilderness Committee here:
https://www.wildernesscommittee.org/news/160-organizations-call-bc-follow-through-old-growth-commitments
This is a movement for all people. Together, we are calling on the province to implement a paradigm-shift in forest stewardship to safeguard biodiversity.
A new declaration signed by 160+ organizations across the labour, health, education, and environmental sectors, in solidarity with First Nations, sends a unified call on the B.C. government to accelerate action on old growth.
Two years ago, the BC government promised to protect old growth. They have not kept that promise. Less than 3% of BC's old growth forests and only 1% of the really massive, ancient trees that once graced our province are still standing. The homes of plant and animal species are destroyed daily. Traditional, culturally precious, territories of Indigenous Nations are ravaged. In a climate emergency, we are losing the critical protection of thriving forests. – Elders for Ancient Trees
"The government's continued negligence and stonewalling on truly protecting old-growth and elder trees is endemic in its approach to climate change and the stewardship of our environment," said Grand Chief Stewart Phillip, President of the Union of B.C. Indian Chiefs. "This feigned ignorance of what is happening to our forests by government and industry will be our downfall, and the impacts of this inaction will prevent us from leaving our future generations with a rich legacy of vibrant, healthy and productive forest lands." Phillip added. "We must do everything in our power to protect these ancient giants and we cannot stop putting pressure on our governments to do their jobs: to protect us and the environment, not act as timber barons whose only concern is this year's financial statements."