2020 Persons' Day virtual discussion with the Hon. Maryam Monsef, Minister of Women and Gender Equality and Rural Economic Development
About this event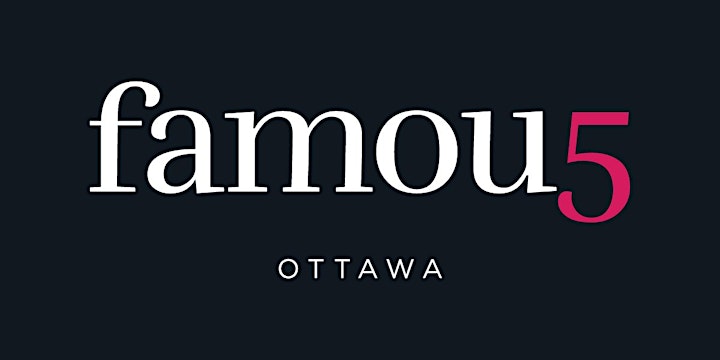 Women & Advocacy: 50 years of progress, the influence of feminist activists
Famous 5 Ottawa is pleased to be co-hosting a 2020 Persons' Day armchair style virtual discussion with the Honourable Maryam Monsef, Minister of Women and Gender Equality and Rural Economic Development and special guests.
Friday, October 16, 2020 | 3 to 4 p.m. EDT
With special guests:
Charlotte Thibault, Long-serving Quebec feminist
Jocelyn Formsma, Executive Director, National Association of Friendship Centres
Muneeza Sheikh, Partner, Levitt LLP
Carole Saab, Chief Executive Officer, Federation of Canadian Municipalities
The "Persons Case" is known as the lengthy legal and political effort by five women which led to Canadian women being officially declared "persons" on October 18, 1929 by the Law Lords at Westminster. This date is now referred to as Persons Day.
This armchair discussion, featuring four prominent activists and advocates whose work has led to significant progress on gender equality, will bring an intersectional lens to advocacy and women's participation in public life, politics, and leadership roles.
The panel will focus on advocacy-related work that remains essential in the quest to achieve gender equality, building on the work of the Royal Commission on the Status of Women (1967-1970), the work to include Women in the Constitution (1981) and the involvement of NGOs at the time of the Beijing Conference on Women (1995), and looking ahead at the new challenges and opportunities.
A link to the online event will be emailed separately.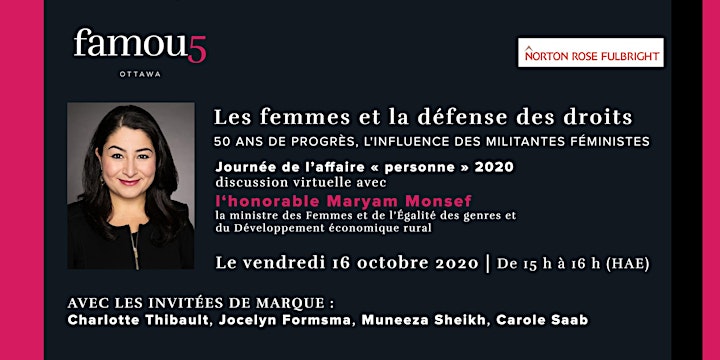 Les femmes et la défense des droits : 50 ans de progrès, l'influence des militantes féministes
Les Famous 5 sont heureuses de coanimer une discussion informelle virtuelle dans le cadre de la Journée de l'affaire « personne » 2020 en compagnie de la ministre des Femmes et de l'Égalité des genres et du Développement économique rural, l'honorable Maryam Monsef, et d'invitées de marque.
Le vendredi 16 octobre 2020 | De 15 h à 16 h (HAE)
Avec les invitées de marque :
Charlotte Thibault, Féministe québecoise de longue date
Jocelyn Formsma, directrice générale, Association nationale des centres d'amitié
Muneeza Sheikh, associée, Levitt LLP
Carole Saab, cheffe de la direction, Fédération canadienne des municipalités
L'affaire « personne » est cette longue bataille juridique et politique qu'ont menée cinq femmes et qui a débouché le 18 octobre 1929 sur la déclaration officielle par les lords juristes de Westminster que les Canadiennes étaient des « personnes ». Ainsi est née la Journée de l'affaire « personne ».
Cette discussion informelle, à laquelle participeront quatre activistes et militantes de renom dont le travail a permis de réaliser des progrès importants en matière d'égalité entre les sexes, permettra d'aborder dans une perspective intersectionnelle la défense des droits des femmes et la participation de celles-ci à la vie publique, à la politique et aux rôles de leadership. Le panel mettra l'accent sur le volet toujours essentiel de la quête de l'égalité entre les sexes qu'est la défense des droits dans la foulée du travail de la Commission royale d'enquête sur la situation de la femme (1967-1970), du travail visant à inclure les femmes dans la Constitution (1981) et de la participation des organisations non gouvernementales à l'époque de la Conférence mondiale sur les femmes Beijing (1995), d'une part, et sur les défis et possibilités que nous réserve l'avenir, d'autre part.
Un lien vers l'événement en ligne sera envoyé séparément par courrier électronique.