WOMEN & GIRLS: ARE YOU INTERESTED IN LEARNING TRADITIONAL SONGS WITH OUR SISTERS IN PREPERATION FOR OCTOBER 4
About this event
WOMEN & GIRLS: ARE YOU INTERESTED IN LEARNING TRADITIONAL SONGS WITH OUR SISTERS IN PREPERATION FOR OCTOBER 4, 2021?
Join Cree Traditional Singer, Sherryl Sewepagaham as she teaches songs sung by Women at National Gatherings and Marches.
Women's Warrior Song
Grandmother Song
Travelling Song
There will be the following options for zoom. Please attend both day or both evenings sessions. We ask you attend two sessions and memorize the songs.
Day times are September 15 & 29 ,2021 10am-11am
Evening times are September 23 & 27, 2021 7pm-8pm
Contact Wendy Goulet 780-219-5789 wendygoulet3@gmail.com
Bring your Voices, Drums, and Rattles!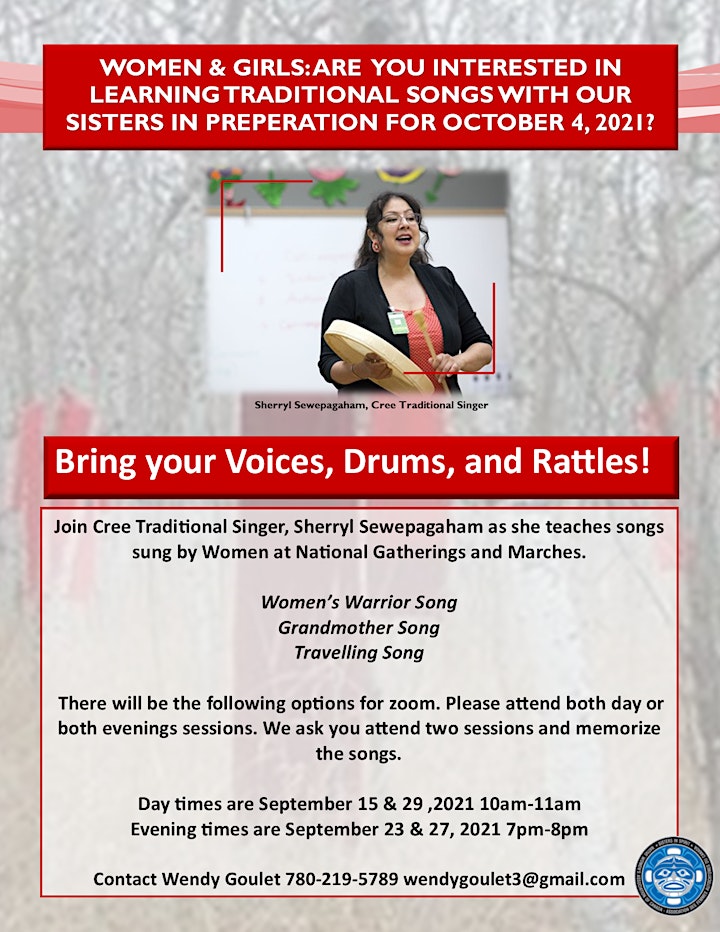 Organizer of Women & Girls Learning Traditional Songs with Sherryl Sewepagaham