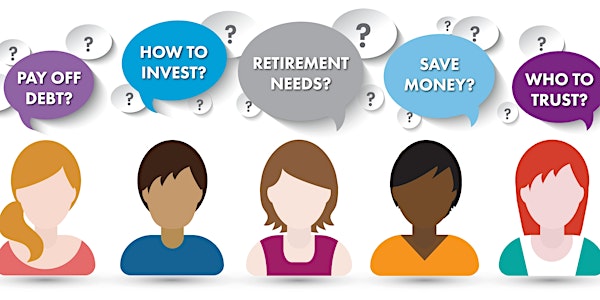 Women's Money Group: Learn How to Eliminate Debt Forever!
When and where
Location
Bayview Yards 7 Bayview Rd Ottawa, ON K1Y 2C5 Canada
Description
Ladies, do you have debts that you'd really like to get rid of once and for all?
Maybe you have persistent credit card debt or lines of credit that stick around no matter how hard you work to pay them off. Perhaps you're sagging under the weight of student loans. Or maybe you find yourself constantly having to go back into debt because every time you get yourself in the black, something seems to fall apart, like the car, the furnace, or the washer. How on earth can you get out from the weight and stress of debt?
The #1 question that I am asked as a finance writer, investor, and credit repair specialist is this: How did you manage to pay off $400,000 of debt in two years? What did it take? Have you gone back into debt?
No, I have not gone back into debt. Since the day that I found myself widowed at 32, saddled with six-figure debt and a dying business, I have steadily built a money system, and subsequently a portfolio of investments, that ensure financial security.
And you can too.
In this month's Women's Money Group meeting, I will show you how to eliminate debt for good! Through an interactive, case-based approach, you'll learn how to triage your debts, apportion your income to maximum effect, and create a money system to get back in the black quickly. We will also look at how interest works against you and what you can do about it. Finally, we'll identify the measures needed to ensure you don't slip back into debt.
Get guidance and support as you work through your questions and challenges around debt.
As part of the April 24th event, you will also have complimentary access to a webinar in mid-May to follow up on your progress. There's a community of like-minded women who are here to support you. Those who are WMG members will have access to me for additional Q&A's through the closed Facebook group.
If you're new to Women's Money Group, you can attend your first meeting for free. If you are a member, access to the meeting is included in your membership. You just need to reserve a seat below.
Here are just some of the benefits of participating in our monthly meetings:
MORE CONFIDENCE | GET UNSTUCK | ROCK YOUR FINANCES | GROW WITH OTHERS
Finally get past your blocks, create a system that works, and achieve your goals with our help.
Ask whatever you like in our women-only safe zone.
Get evidence-based answers you can trust, not a sales pitch.
Hands-on experience through case-based learning.
You'll get support and follow up after the meeting.
Seats are limited, so be sure to book your spot today! Members, if you bring a guest, your name will be entered in a draw to win a copy of my book, Protect Your Purse, at the Wine night in July. Guests need to register separately under their own name.
See you on April 24th!