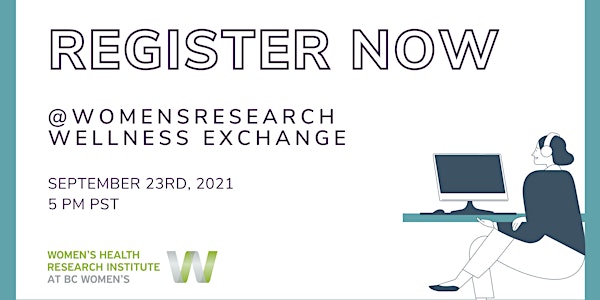 @WomensResearch Wellness Exchange
Join us at the @womensresearch Wellness Exchange. The latest evidence & resources delivered to you, virtually.
About this event
Join us for a FREE virtual public event on September 23rd at 5:00 pm PST.
This event will feature presentations on user-centered digital support tools related to perinatal, reproductive, and miscarriage health.
Learn about a text-messaging prenatal education program; a digital decision aid for giving birth after a caesarean section; a new video and set of resources for people who have experienced miscarriage; and a digital platform to provide support for post-abortion care. We have an exciting lineup of experts in women's health, including Dr. Roopan Gill, Dr. Patti Janssen, Dr. Astrid Christoffersen-Deb, and Dr. Sarah Munro who will be available for an audience Q&A – register now to save your spot!
Zoom details will be delivered to all registered guests which will enable you to engage directly with members of the research community. The event will also be streamed live via the Women's Health Research Institute Facebook page.
Program
Introductory remarks | Dr. Lori Brotto and Shirley Weir
Using video to break the silence around miscarriage | Dr. Astrid Christoffersen-Deb + AJ Murray
SmartMom | Dr. Patti Janssen
Patient-Oriented Decision Aids | Dr. Sarah Munro​ + Zeba Khan
myPostCare | Dr. Roopan Gill
Q&A
Meet our Emcee & Speakers
Shirley Weir, Emcee
Shirley Weir is on a mission to empower women to navigate perimenopause & menopause with confidence and ease. She is the founder of MenopauseChicks.com and its popular private online community with 25,000 women, which fields an average of 15,000 questions and comments per month. Shirley has spoken at TEDxGastownWomen, received a YWCA Vancouver Woman of Distinction Award and Menopause Chicks has been featured in the National Post, The Today Show, CBC, and OWN (Oprah Winfrey Network). In April 2016, Shirley hosted the first-ever online menopause party celebrating her own menopause milestone. She and rock star, Bif Naked, discussed learning to love menopause, while women tuned in to share their stories in a private online community. In 2018, her first book, MOKITA: How to navigate perimenopause with confidence & ease reached #1 on Amazon.ca in women's health.
Shirley's marketing & communications career spans 30 years, she holds a certificate in Peer Counselling from the University of British Columbia, and she is mom to two teenagers and one golden doodle.
Dr. Sarah Munro
Patient-Oriented Decision Aids
Dr. Munro is a qualitative health services researcher whose focus is on knowledge translation and implementation science.
Her research focuses on the investigation of factors that influence the implementation of patient-centred practice and policy, and the development and evaluation of tools that support shared decision-making for patients and their care teams.
Dr. Munro conducts research related to the implementation of patient-centred care for the choice of next birth after cesarean, choice of contraception, medical abortion practice, and breastfeeding. Through this research, Dr. Munro partners closely with stakeholders (patients, health care professionals, and policymakers) to produce evidence that is action-oriented, relevant, and supports patients and their care teams to make informed, shared healthcare decisions.
Dr. Munro completed her postdoctoral training in implementation science with the Canadian Contraception and Abortion Research Team and Dartmouth College.
Zeba Khan
Patient-Oriented Decision Aids
A staunch believer in equal access to healthcare for all, Zeba advocates for free access to menstruation care supplies. She founded Free Periods Canada in 2016, which is a grassroots non-profit organization in Vancouver, BC.
Zeba is a graduate research trainee at the Contraception & Abortion Research Team (CART) at UBC and a board member of Options for Sexual Health. She is working with these two groups to evaluate the sexual and reproductive health care access needs of immigrant youth in BC. Zeba will be starting her Master's program next year as a Mitacs Fellow & Affiliated Fellow at UBC.
Her dedication to advocating for menstrual and healthcare equity has earned her the 2021 BC Community Achievement Award, 2019 Diana Award, as well as the International Community Achievement Award by UBC four times in a row.
Dr. Roopan Gill
myPostCare - Example of a digital health tool to demonstrate why user-centered, community-led research is pivotal to design, development and implementation for abortion and contraception self-care.
Dr. Roopan Gill (she/her) is an obstetrician gynecologist with expertise in family planning. She is Clinician Investigator, Assistant Professor at the University of Toronto, Department of Obstetrics and Gynecology. Dr. Gill is Women's Health Advisor for Medecins Sans Frontieres, Doctors Without Borders and has worked as an emergency obstetrician gynecologist in Northern Nigeria and recently in Northern Yemen. In addition, Dr. Gill has worked in various global settings including Lesotho, India, Malawi and Uganda. She has consulted and worked as a Medical Officer with the World Health Organization Department of Sexual and Reproductive Health Research. She is the Co-Founder and Executive Director of a not-for-profit, Vitala Global Foundation that is focused on developing digital solutions to empower women living in challenging contexts to self-manage their sexual and reproductive health needs. Dr. Gill is a recipient of various grants as primary investigator including Grand Challenges Canada OPTions Grant, Saving Lives at Birth and Society for Family Planning. She has published in peer-reviewed journals on topics to better understand the challenges and needs of women and girls accessing reproductive and sexual healthcare needs. Her most recent work includes building a digital tool using user-centered design to support Venezuelan women to self-manage their sexual and reproductive health needs.
Dr. Astrid Christoffersen-Deb
Using video to break the silence around miscarriage
Astrid Christoffersen-Deb (she/her) is an anthropologist, community health worker and OB/GYN physician working at BC Women's Hospital and South Community Birth Program. She has been the Medical Director for the Early Pregnancy Assessment Clinic and the Recurrent Pregnancy Loss Program from 2017 to 2021. Prior to this, she worked full time in Western Kenya for Moi University and the University of Toronto, designing and implementing strategies to reduce maternal and newborn mortality. She is currently working with the population and global health department at BC Women's Hospital.
AJ Murray
Using video to break the silence around miscarriage
AJ Murray (they/ them) is the knowledge translation specialist in Population Health Promotion at BC Women's Hospital + Health Centre. I completed the Knowledge Translation Certificate program at the University of Toronto under Dr. Melanie Barwick. Much of my work focuses on collaboration with researchers, clinicians and patient partners to develop patient-facing, plain language and evidence-based health information and resources for BC Women's patients and the public. I also consult and collaborate across PHSA on the use of inclusive language and design issues.
Dr. Patti Janssen
SmartMom: Prenatal Teaching by Texting
Dr. Janssen (she/her) is a Professor and perinatal epidemiologist at the UBC School of Population and Public Health, and Senior Scholar at the BC Children's Hospital Research Institute. Trained in nursing and midwifery, Dr. Janssen leads Optimal Birth BC, a consortium of clinician-scientists and public health practitioners who work with health authorities to support normal birth and develop information resources for childbearing families. She is the founder of SmartMom and SmartParent, prenatal and parenting education programs delivered by text messaging for parents in British Columbia.