About this Event
AMHSA is partnering with Howatt HR to provide an interactive workshop and panel discussion on workplace mental health in Alberta and creating a safe workplace in adverse economic times.
Come join us for an action-packed day of learning and sharing with one of the country's top psychological and HR facilitators.
Facilitated by Dr. Bill Howatt, Howatt HR Consulting
Dr. Bill Howatt a behavioural scientist, is known as one of Canada's top experts in mental health issues in the workplace. As a highly respected columnist for the Globe and Mail, author, clinician, consultant and speaker, he effortlessly engages and inspires both individuals and groups.
Learning Objectives/Topics
The current Alberta economic environment presents additional challenges for employers charged with creating/maintaining psychologically safe workplaces.
This workshop speaks to:
• Constructing a psychological health strategy
• Reviewing your mental health metrics and determine if you are being effectively
• Learning strategies for resiliency
• Strategizing effective metrics in mental health
• Connecting with other HR/OHS professionals to share Best Practice
There will be a networking lunch and round-table discussion.
Gain insight and knowledge from diverse industry and government experts during real time, relevant panel discussion. This is your opportunity to ask your burning questions!
Dr. Bill Howatt, President Howatt HR Consulting
Craig Hrynchuk, Executive Director AMHSA
Michelle Semotiuk, Manager - Special Care Services, Workers' Compensation Board – Alberta
Dr. Lisa Ross-Rodriguez, Director Strategic Evidence & Action, OHS Prevention Strategies
Olana Todoruk, Sr. Director Benefit Services, Alberta Urban Municipalities Association
Jennifer Miller, Q.C. Partner, Bennett Jones LLP
For further event details feel free to contact Scott at AMHSA @ 1-800-267-9764 or safety@amhsa.net
Conference Room: PIC120122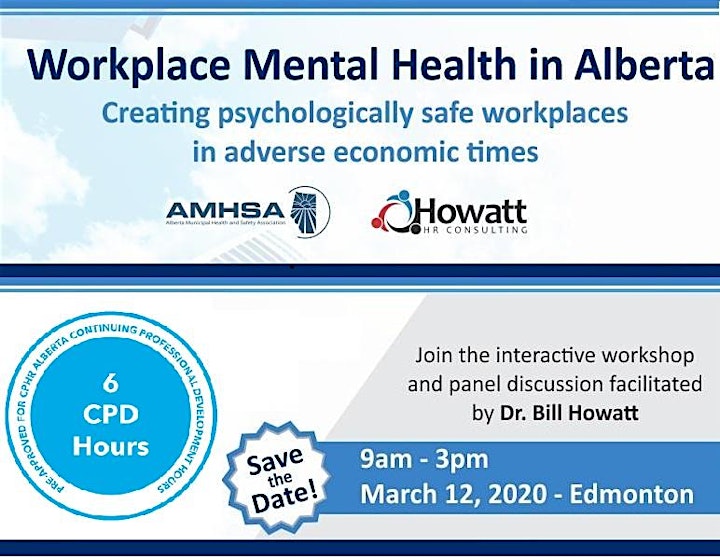 Schedule:
8:15: Registration opens
9:00 – Noon: Howatt HR will facilitate an interactive workshop where attendees learn and discuss:
Constructing a psychological health strategy
Mental health metrics - are you being effective?
Strategies for building resiliency
Build psychological professional competencies
10:30: 15 minute Break
Noon – 1:15: Networking - Learn from similar Alberta organizations' experience during lunch-time round-table
With assigned seating, organizations will be able to learn from each other's experiences with facilitated questions and round-table discussions
1:15 – 2:30: Panel Discussion including the following panelists:
Dr. Bill Howatt, President Howatt HR Consulting
Craig Hrynchuk, Executive Director AMHSA
Olana Todoruk, Sr. Director Benefit Services, Alberta Urban Municipalities Association
Dr. Lisa Ross-Rodriguez, Director Strategic Evidence & Action, OHS Prevention Strategies
Michelle Semotiuk, Manager Special Care Services, Workers' Compensation Board – Alberta
Jennifer Miller, Q.C., Partner, Bennett Jones LLP
2:30 – 2:45: Wrap up and conclusion by Howatt HR
2:45 – 3:00: Closing comments Closing comments by Craig Hrynchuk