Description
BREWGA brings together two things that we at Big Rock LOVE: Yoga & BEER. This is a fun night out with friends, a great idea for a date night, or the perfect way to try a yoga class in a non-intimidating environment. The class is ideal for anyone who is interested in exploring yoga in a different and chill social setting, while looking to expand their minds in respect to local craft beers.
Ticket includes a 1 hour yoga session followed by your choice of 20 oz pint of Big Rock beer and a selection of BRU Snacks. Live music starts at 8 PM if you wish to stay and mingle longer too! BYOM (bring your own mat). Space is limited - reserve your spot today!

"All too often after an epic yoga or spin class people are so hyped up and excited and then all they do is pack their stuff up and go home. Now we have this incredible opportunity to create connections with those who just shared in that same energy filled class - have a beer, get to know one another, create community and have an outlet for that palpable energy that was built. Let's change some preconceptions about yoga...with beer!"
-Lyndsay Petti, instructor. Follow her on Instagram!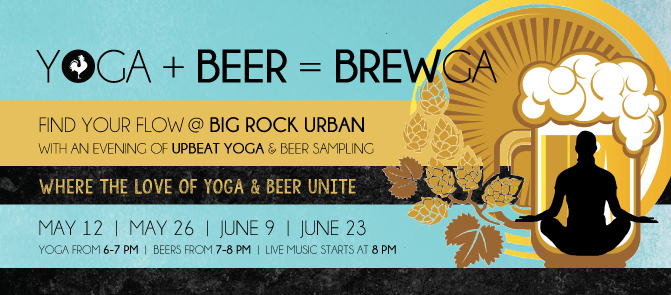 Organizer of Yoga + Beer = Brewga