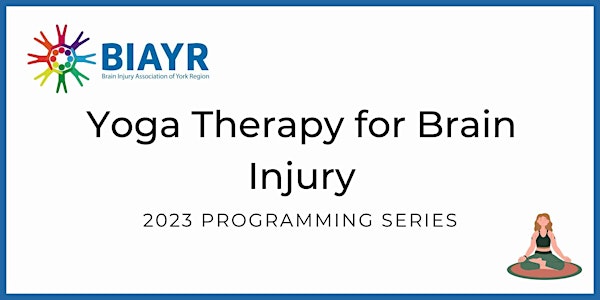 Multiple dates
Yoga Therapy for Brain Injury - 2023 BIAYR Programming Series
Yoga Therapy sessions for brain injury survivors and caregivers.
By Brain Injury Association of York Region
Date and time
Thu, Jan 5, 2023 3:00 PM - Thu, May 25, 2023 4:00 PM PST
About this event
Yoga Therapy for Brain Injury: Release and Restore
Hosted by Shehla Khan, C-IAYT
Yoga Therapist (certified with the International Association of Yoga Therapists)
Participants will be facilitated through an evening practice to release accumulated physical tension and mental stress that has built up over their day and week. Participants will be led through gentle mindful movements, coordinating with their breath and focusing their mind in the present moment. You will be guided through a breathing practice and meditation to support your parasympathetic nervous system to elicit the relaxation response in the body.
This practice aims to support the participant to have a more restful sleep and support your body and mind to learn how to reset for the following day. Through repeated practice of an evening routine, participants may learn tools that they can incorporate into their everyday life.
Participants will require a chair and a Yoga Mat. As stated previously, standing poses will use the chair for support, yet poses can be modified so that the participant can remain in the chair instead of engaging in standing or lying poses if preferred.
These sessions will take place on Thursdays from 6 pm - 7 pm.
More about Shehla Khan:
Shehla is an Ayurvedic Practitioner & Certified Yoga Therapist. She is passionate about using the power of yoga to help support individuals on their journey to cultivate a life full of healing & love.
"I believe in the simplicity and the discipline of this great practice of Yoga. In the tradition of Krishnamacharya and T.K.V. Desikachar, I draw on different styles of Yoga while incorporating other techniques that promote healing and balance. From Sivananda to Classical Hatha, Vinyasa to Yin and Restorative, I incorporate Yoga's knowledge of itself into my own practice and offer it to others through my teaching.
As a Certified Yoga Therapist, I work diligently to bring the unadulterated teachings of Yoga to the people around me. I have been teaching Yoga and offering Yoga Therapy in Toronto for over 15 years. I have taught public, corporate and private Yoga classes, workshops, and outreach programs. As an instructor of the Classical Yoga Teacher Certificate program at George Brown College and as a senior faculty for Yoga Sanctuary's teacher training programs, I share my knowledge of Yoga Philosophy, Ayurveda, Tantra and Yoga Therapies.
I have come to believe that Yoga is truly a lifelong journey—full of healing and love. To the best of my abilities I teach according to Ayurvedic Principles, paying due respect to the environment around us—the seasons, weather and time of day—and, of course, to the people in front of me." - Shehla Khan
About the organizer
The Brain Injury Association of York Region is committed to helping individuals, and their loved ones, who are dealing with an acquired brain injury.  Our focus is to provide awareness, education, and advocacy.