Description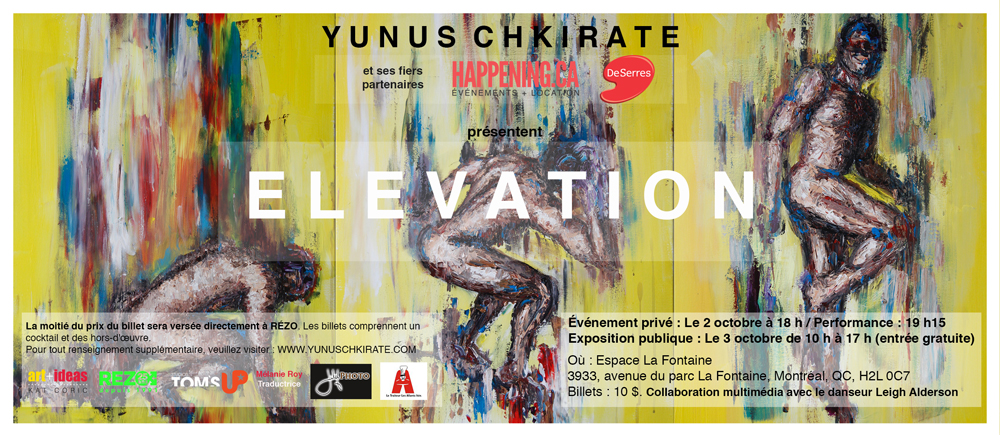 Tickets: 10$.
Half the ticket proceeds will be donated directly to REZO.Tickets will include one cocktail and small appetizers.
Taking things to another level as only he can - Yunus Chkirate will present his eighth solo exhibition titled ELEVATION on October 2nd at Espace LaFontaine in Montreal.
Montrealers have long become accustomed to Chkirate's sense of showmanship through his carefully orchestrated productions which are, often collaborations and always an exciting feast for the senses. So if you haven't already tasted his brand of artistry - now is the time to.
Producing such dramatic works of art and multidisciplinary theatrical exhibitions takes inspiration and creativity and it often takes a lot out of the artist too. But it's on that "Risk" that Chkirate thrives as illustrated in the artist statement :
"ELEVATION is not about one direction despite its name. It represents a will to rise, an acknowledgement that in order to shoot up we must be down. I'm learning that rising above obstacles isn't always a vertical jump. There are times it's heavier to get there and we bend again. I'm OK with that now. Some works may show a body surging through the air, however it might not be a reality. More specifically, my desire to climb over a struggle. To break free. This series portrays many of my truths where I thought love can conquer it all, where I grew and others where I failed"
This will be Chkirate's most daring exhibition to date, including a unique multi-media live performance in collaboration with renowned Irish ballet dancer Leigh Alderson. For the first time ever, Chkirate will be creating an outdoor/indoor experience at the heart of Parc LaFontaine. The main private event will take place October 2nd at 6pm with an exclusive outdoor cocktail. The exhibition will be open to the public on October 3rd from 10 - 7pm.
Private Event : October 2nd - 6pm
Public Exhibition: October 3rd 10 - 7pm (Free Entrance)
Performance: 7:15pm.
Duration : 20 mins
Where: Espace LaFontaine
TRACES : A Social Responsibility
Struggle like a demon can manifest itself into wills to escape reality. It can hide in vices which appear to momentarily free the pain and blur our existence. On a Spring day where Chkirate and Alderson were walking in the park and discussing their lives, a special moment blossomed. The two artists realized that they must channel this artistically into a piece which discusses Escapism in all its forms. These forms are illustrated in Alderson's statement :
"Succumbing to the dark desires of feeling trapped is a journey I can only assume is familiar to too many. The type of escapism can vary depending on the daily situation. Finding the acceptance to maintain a balance of how we engage with our escapism is to fully comprehend how to control, thrive and benefit from it. However it is when we start to lose the ability to maintain control that we become easily lost. Do we escape because we are swamped with life or do we escape because we are surrounded by silence?"
Where the idea grew between two artists is where the performance will be held, at the very heart of Parc Lafontaine. Since Escapism is often the root of problems with addiction, half of the proceeds from ticket sales for the event will benefit REZO a community organization with their latest project www.MONBUZZ.ca .
SPECIAL Partners:
Dance : Leigh Alderson
Video : Les Studios Tom's Up
Event and Materials : Happening.Ca
Photography: Jihef Portelance
Videography: Arnaud Schaumann
Art Materials: Deserres.ca
Media and Logistics : Kat Coric
Catering : Le Traiteur Les Allants ltée.
For all additional information and links please see
Montréal. Le 16 septembre 2017 : Amener les choses à un autre niveau comme lui seul sait le faire – Yunus Chkirate présentera sa huitième exposition individuelle intitulée ELEVATION le 2 octobre à l'Espace La Fontaine à Montréal.
Les Montréalais se sont depuis longtemps habitués au sens du spectacle de Chkirate à travers ses productions soigneusement orchestrées qui sont souvent réalisées en collaboration avec d'autres artistes et qui nous promettent toujours un vrai régal pour nos sens. Si vous n'avez pas encore goûté à son art, c'est maintenant le moment de le faire.
Produire de telles œuvres d'art dramatiques ainsi que des expositions théâtrales multidisciplinaires requiert beaucoup d'inspiration et de créativité et demande énormément de temps et d'énergie à l'artiste également. Cependant, c'est sur ce « risque » que Yunus cherche à se surpasser comme il l'explique lui-même dans cette déclaration :
« ELEVATION ne concerne pas seulement une direction malgré son titre. Cette production représente une volonté de s'élever, un constat que pour être en mesure d'atteindre le succès, il faut d'abord avoir connu l'échec. Je suis en train d'apprendre que surmonter des obstacles n'implique pas toujours un saut vertical. Il y a des moments où c'est beaucoup plus difficile d'y arriver, et nous devons nous replier de nouveau pour mieux nous élancer. Je l'accepte maintenant. Certaines œuvres peuvent montrer un corps qui surgit de l'air, toutefois, ce n'est peut-être pas une réalité. Plus précisément, il s'agit de mon désir de surmonter un obstacle, de me libérer. Cette série dépeint beaucoup de mes vérités : celles où je croyais que l'amour pouvait tout conquérir, celles où j'ai grandi et d'autres où j'ai échoué. »
Ce sera l'exposition la plus audacieuse de Chkirate à ce jour, comprenant une performance multimédia unique en direct en collaboration avec un danseur de ballet irlandais de grande renommée, Leigh Alderson. Pour la première fois, Chkirate concevra une expérience extérieure/intérieure en plein cœur du parc La Fontaine. L'événement privé principal sera un cocktail exclusif en plein air qui se tiendra le 2 octobre à 18 h. L'exposition sera ouverte au public le 3 octobre de 10 h à 17 h.
TRACES : une responsabilité sociale
Se débattre comme un beau diable peut se manifester en volonté d'échapper à la réalité. Cela peut se cacher dans des vices qui semblent nous délivrer du mal momentanément et brouiller notre existence. Au cours d'une journée de printemps où Chkirate et Alderson se promenaient dans un parc et discutaient de leur vie respective, un moment spécial a fleuri. Les deux artistes ont pris conscience qu'ils devaient le canaliser artistiquement dans une œuvre qui traite de l'évasion sous toutes ses formes. Alderson illustre ainsi ces formes d'échappatoires :
« Succomber aux désirs sombres de se sentir pris au piège est une expérience à laquelle beaucoup trop de gens sont habitués, je crois. Cette forme d'échappement peut varier en fonction de la situation quotidienne. Trouver l'acceptation pour maintenir l'équilibre de la façon dont nous nous engageons dans notre évasion est de comprendre pleinement comment la maîtriser, s'épanouir et en bénéficier. Cependant, lorsque nous commençons à perdre notre capacité à exercer ce contrôle, nous devenons facilement perdus. Est-ce que nous nous évadons parce que nous sommes engloutis par la vie ou parce que nous sommes entourés par le silence? »
C'est à l'endroit où cette idée à commencer à germer dans l'esprit de nos deux artistes qu'aura lieu la performance, en plein cœur du parc La Fontaine. Comme l'évasion est souvent la racine des problèmes de dépendance, la moitié des fonds amassés par la vente des billets de cet événement sera versée à RÉZO, un organisme communautaire, pour leur plus récent projet de sensibilisation www.MONBUZZ.ca.
Partenaires SPÉCIAUX :
Danse : Leigh Alderson
Vidéo : Les Studios Tom's Up
Évènement et équipement : Happening.Ca
Photographie : Jihef Portelance
Vidéographie : Arnaud Schaumann
Matériel artistique : Deserres.ca
Média et logistique : Kat Coric
Service de traiteur : Le Traiteur Les Allants ltée.
Renseignements sur l'exposition :
Dates :
Évènement privé : Le 2 octobre à 18 h (https://elevation-yunuschkirate.eventbrite.ca )
Exposition publique : Le 3 octobre de 10 h à 17 h (entrée gratuite)
Performance : 19 h 15 Durée : 20 minutes
Où : Espace La Fontaine, 3933, avenue du parc La Fontaine, Montréal, QC, H2L 0C7
Billets : 10 $.
La moitié du prix du billet sera versée directement à RÉZO. Les billets comprennent un cocktail et des hors-d'œuvre.
Pour tout renseignement supplémentaire, veuillez visiter : WWW.YUNUSCHKIRATE.COM