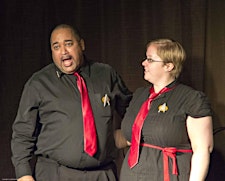 The Dandies
(Toronto, ON, Canada) The Dandies are a Toronto-based comedy troupe.

The Dandies were formed by Andie Leathley and Dale Wells on Feb. 17, 2012. In 2015, the duo recruited Alan Leightizer and musical director Jason Zinger, and Zach Mealia in 2016.
Their flagship show is Holodeck Follies, a monthly improvised Star Trek comedy and variety show in its fourth year. They also produce The Sampler – the fast paced competitive comedy show.
The Dandies were nominated for Now Toronto's Reader's Choice award for Best Improv Troupe (2015, 2014).
More Information: View our Electronic Press Kit for information, reviews, and images.
Sorry, there are no upcoming events