Description
Creating Connection:
A Community Experience Retreat
---

You are warmly invited to come and experience community together over a weekend of connecting at this woodland retreat. We welcome you to this safe space, which has been prepared with you in mind. A place for you to meet others and enter into meaningful conversations that open us up to gratitude for life, new perspectives and a willingness to invest ourselves in new encounters.

During the weekend there will be deep opportunity to reach out beyond yourself; to contemplate, discern and embrace "The Holy" in your own personal way. Here you can treasure your roots while at the same time blending them with your continuing search for authenticity.

We understand that creating connection can take on many meanings, so we will utilize a number of models and practices that facilitate a good variety of options. Our hope is that as we journey together, encountering authentic and genuine connection, a more compelling picture begins to emerge that helps create greater awareness of the inter-connectedness of everything.

May your inclusivity broaden into a spirit of mutuality with the diversity of all.
Namaste.

---
Retreat Setting
Set amongst the rushing waters of the mighty Rocky Saugeen River where it winds mesmerizingly through the scenic diversity of the Grey Highland forests, this retreat center rests upon 300 acres of rolling hills and walking trails, known for its variety of wildlife and spectacular sunsets.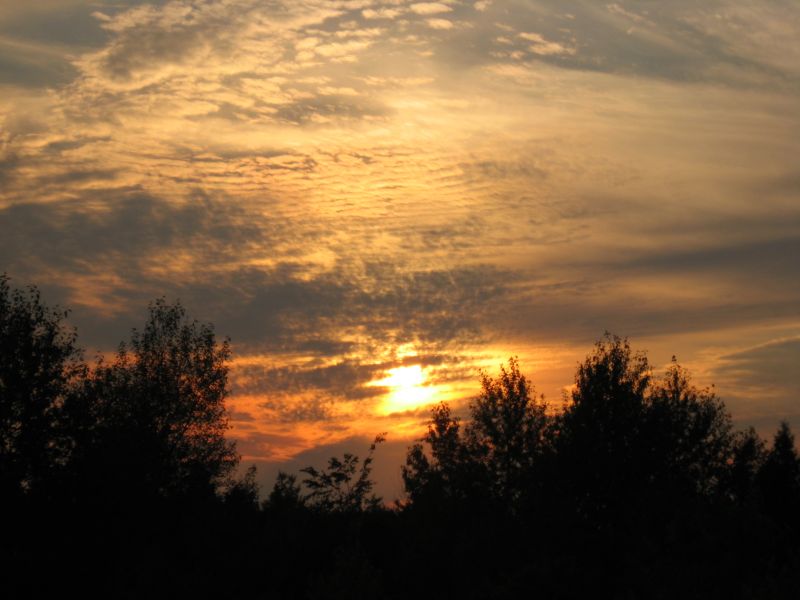 ---
Tentative Schedule
Friday (We Arrive as Strangers)
7:00–8:00 PM Gathering and Check-in / Registration
8:00–9:30 PM Waffles, snacks and table talking
9:30–11:00 PM Connection / Meditation

Saturday (We Become Acquainted)
7:00–8:00 AM Yoga Flow / Tai Chi / Mindfulness Meditation
7:30–8:30 AM Breakfast Continental Style (Self Serve)
8:30–8:45 AM Welcome and introduction to the day/weekend
8:45–9:45 AM Small Group Connection (Sacred Listening)
9:45–11:00 AM Elective Session #1 (see choices below)
11:15–12:15 AM Physical Spirituality (see options below)
12:30–1:30 PM Lunch
1:30–2:30 PM Consensus Building (group session)
2:30–3:45 PM Elective Session #2 (see choices below)
4:00–5:30 PM Physical Spirituality (see options below)
5:30–7:00 PM Dinner
7:00–8:00 PM Small Group Connection (Sacred Listening)
8:15–9:30 PM Trivia Fun
9:30–11:00 PM Campfire / Music / Reflection / Star Gazing / Meditation

Sunday (We Leave as Friends)
7:00 – 8:00 Yoga Flow / Tai Chi / Mindfullness Meditation
8:00 – 9:00 AM Breakfast - Continental Style (Self Serve)
9:00 – 11:45 AM Connection Activity
12:00 PM Connection Meal: Sharing Our Story Together
1:45 PM Clean-up
2:30 PM Travel Home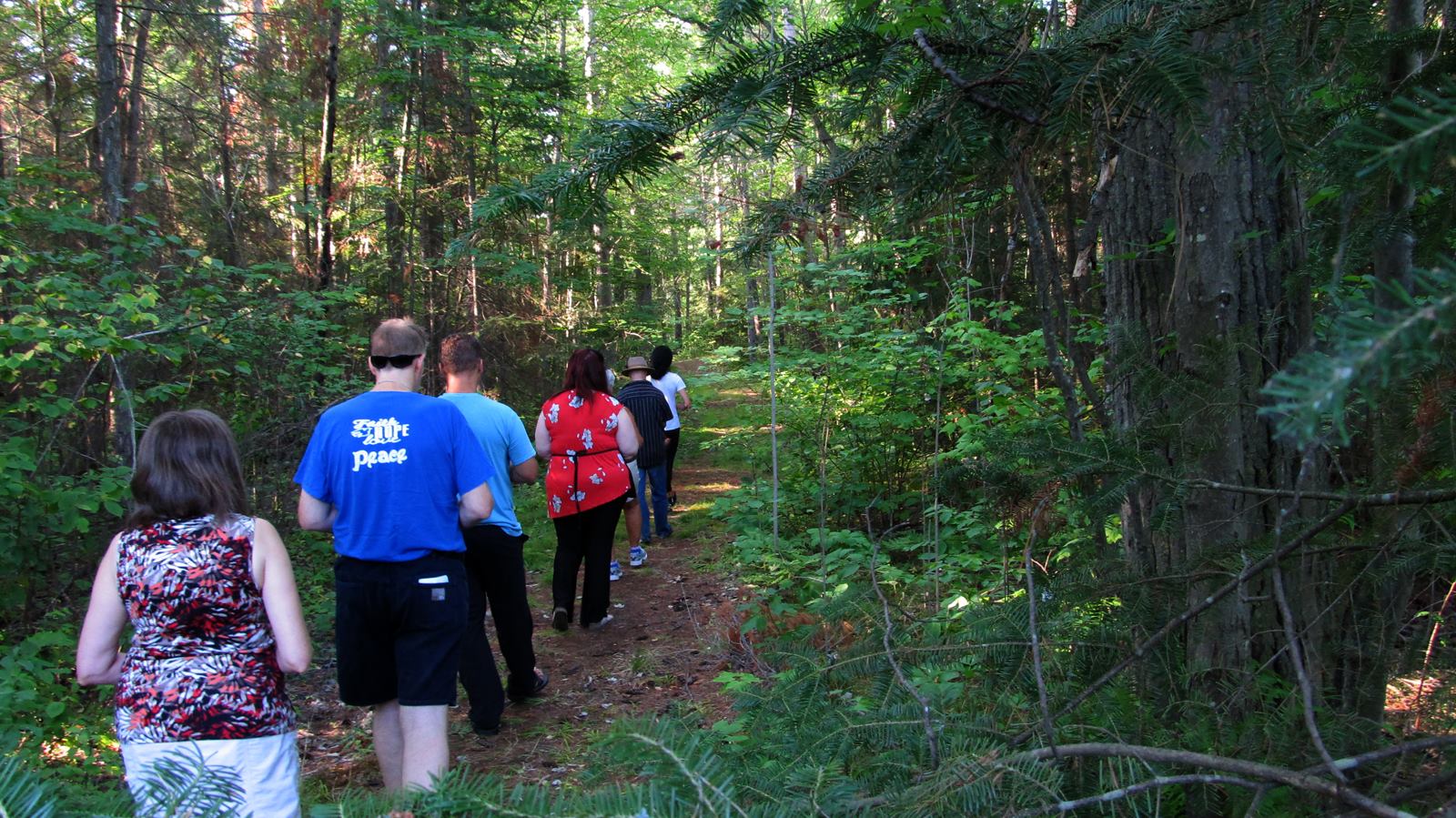 GROUP SESSIONS

Sacred Listening: The act of taking time to listen, not only to the words of those in front of us, but also to the heart, is crucial to building authentic connection. Sacred Listening is a practice where a small group of people intentionally listen to each other share freely on a focused question. After a short time of quiet reflection, the other members begin to share what emerged for them - what thoughts or insights were received - without counsel or advice. Only honest response as space is held open for moments of joy and sorrow, for Sacred Listening is a time of deep investment in all aspects of life.

Consensus Building: We all love a good debate. However, debating by its very nature divides. Rogers Rules of Order used in business meetings and Parliaments are really just rules on how to debate ourselves into divisive groupings. Let's explore other rules and ways to dialogue with each other towards building community, a pluralistic community. It requires non-authoritarian, flexible rules that maintain the dialogue, rather than ending it. Let's see if we can discover how to do this.
---
ELECTIVES AVAILABLE
A Course in Miracles: A unique, universal, self-study spiritual thought system that teaches that the way to Love and Inner Peace is through Forgiveness. We will offer an introductory discussion for anyone who wishes to know more about what it is and with those who wish to share their experience with the course. We will discuss the idea of Forgiveness from the course's perspective and offer a different way of looking at what it means.

Encounter World Religions: "Canadian Indigenous Spirituality: Living in Seven Directions". We will examine Canadian Indigenous teachings and practices including key themes that emphasize place, interconnectedness, orality, and the joining of matter and spirit. In addition, we will consider how these traditions often uniquely employ physical ordeals to promote powerful experiences that heal and transform. Visit worldreligions.ca

Plant Based Nutrition: Heart disease, Cancer , Diabetes, Arthritis, Alzheimer's, Obesity, Depression, Autoimmune Diseases, Gastrointestinal disorders. These and more of the most feared chronic diseases can be prevented and/or reversed with a Whole Food Plant Based Lifestyle. Learn more about the 3 legged stool, how health of Body, Mind and Spirit combine in promoting health and well being for you and the planet. Come, share and learn how this valuable scientifically proven age old science in nutrition is changing peoples lives and discover what this can mean for you.

---
PHYSICAL SPIRITUALITY OPTIONS
Interactive Drumming: The drum circle is a facilitated playful and welcoming activity to help you release stress, shift your mood from negative to positive, create a sense of belonging, build new healthy neuropathways of joy, fill your body with energy and a true zest for life, develop a sense of authentic community and connection and create an awareness of the divine within and around us. No experience required.

Labyrinth Experience: A labyrinth is an ancient symbol that relates to wholeness. It combines the imagery of the circle and the spiral into a meandering but purposeful path. The Labyrinth represents a journey to our own center and back again out into the world. Labyrinths have long been used as meditation and prayer tools. Come and experience a sacred space and place that can take you out of your ego and into "That Which Is Within."

Star Gazing: We will share the experience of perusing the skies and orienting to the cycles above through a cursory knowledge and share with others the enthusiasm of looking up.

Mindfullness Meditation: Be Quiet, Be Still, Be Restful: Sitting in silence, develop full awareness of the present moment with guided mindfulness meditation. These simple exercises will help you find your natural breathing cycle and a state of deep relaxation in the midst of the constant flow of thoughts and feelings.

Walking Meditation: Find your mind in the experience of the world around you while mindfully walking together in silence. This meditative practice will help you focus the awareness on the senses as you become one with the nature that surrounds you, gradually letting go of replaying past events and worrying about your to-do list.

Woodland Trails Guided Walk: If you've never walked the trails of Ziontario, or even if you have, you're in for a treat! From cedar grove to beautiful, winding river. From sun dappled meadows to hardwood bush. These 300 acres will take your breath away. Come walk with us and connect with these grounds and with nature at its best.
Yoga: Join Danica (200 hr+ Certified Yoga Instructor) in greeting each day with a gentle morning flow or sign up for the yoga elective to expand your yoga practice. Through these guided flows, notice how expanding your mind, body and spirit connection can bring light and energy to your day. All experience levels welcome.
---
ACCOMODATIONS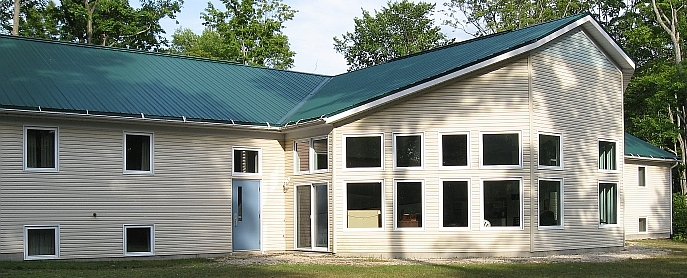 For those attending overnight, the Arnold Peace Lodge on the property is a large, modern, building with a spacious central common area and approx. 25 dorm style rooms. Most of these rooms contain three sturdy, solid wood frame bunk beds meant for shared accomodations. With approximately 25 rooms, in most cases you will likely be assigned your own room with your requested partner, friend or family member, giving you as much privacy as possible.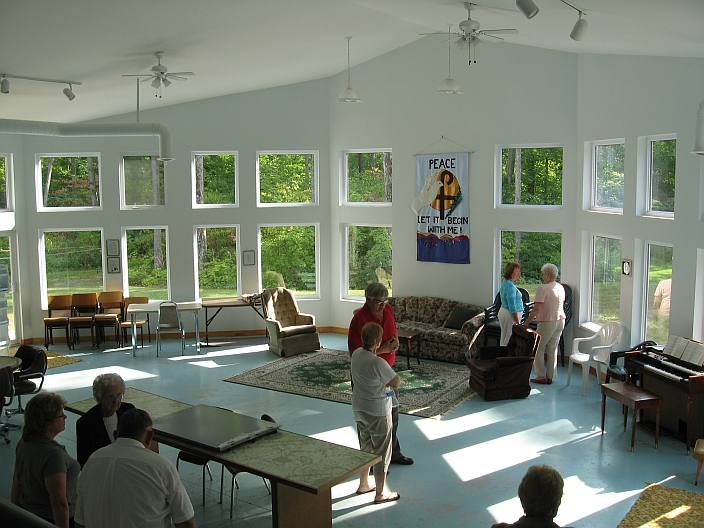 Each room contains its own sink and mirror area for your more personal use, and shared bathrooms with private stalls are located off the main hallways. Showers are available in several large, self-contained, individual, private and secured rooms. All areas of the lodge (and the entire grounds) are 100% fully accessible.