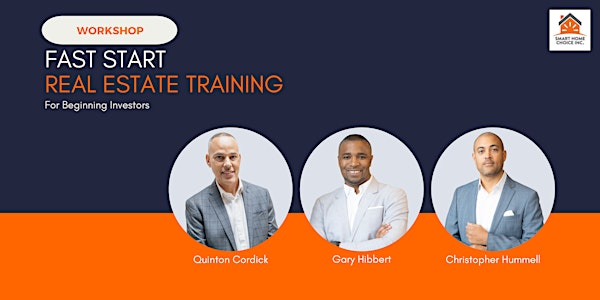 Fast Start Class For Beginning Investors
This class is specifically designed for beginners to determine if Real Estate investing is right for them
Date and time
Tue, Apr 11, 2023 6:45 PM - 7:45 PM EDT
Location
Lauft 20 Pugsley Ct., Ajax. Ajax, ON L1S 2H6 Canada
About this event
This class is specifically designed for beginners to determine if Real Estate investing is right for them. We will teach you how to find the best Real Estate opportunities right here in the Durham Region and surrounding areas.
We will show you how to properly analyze a property while keeping the classes interactive and most importantly, answer every question you may have.
We're always asked, 'Why did we decide to get into Real Estate investing?' and here's the simple answer:
We were not satisfied with the returns on our RRSP statements
We were not convinced our pensions were going to be enough when we retired
What would happen if one of our spouses lost their job?
What could outpace inflation if our raises at work were not?
All of these were a major concern and we were determined to find a solution.
We knew Real Estate investing was a solution, but there were fears such as:
How to spot professional tenants.
What would happen if the market crashed?
How long would it take to find a suitable tenant?
How do you afford the down payment?
Difficult questions to answer, so decided to seek out the best in the industry and share the answers with anyone willing to learn.
We've made our share of mistakes and we're not scared to share our success stories and our failures.
We don't hold these classes often. Register TODAY to reserve your SPOT. Limited spaces available.
About the organizer
Smart Home Choice is a full service Real Estate Investing firm and specializes in the Durham Region and surrounding GTA area. We are one of Durham Region's largest group of Real Estate investors and offer expert advice when it comes to Real Estate Investing.
Our mission is to educate investors to allow them to make informed decisions in their investing strategies. We accomplish this through various channels.