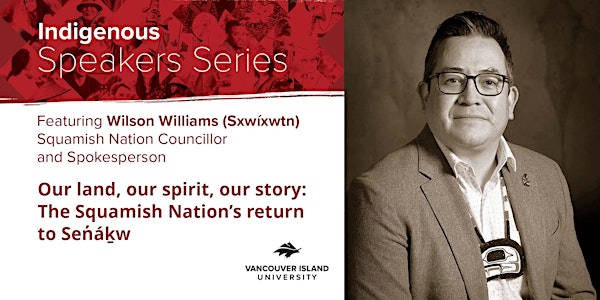 Indigenous Speakers Series featuring Wilson Williams (Sxwíxwtn)
Our land, our spirit, our story: The Squamish Nation's return to Sen̓áḵw
When and where
Location
Malaspina Theatre 900 Fifth Street Nanaimo, BC V9R 5S5 Canada
About this event
UPDATE: Due to severe weather, our Nanaimo campus, including the Malaspina Theatre, will be closing for the evening. This event has been postponed in early 2023. We will share the new date once it has been confirmed. 
Thank you for your interest and we hope to see you in early 2023! 
Join us at the eighth annual Indigenous Speakers Series. Wilson Williams (Sxwíxwtn) will share the story of the Squamish Nation's fight to have their traditional lands in downtown Vancouver returned to the Nation. He will speak about the history and importance of the lands and how the Nation's development of the Sen̓áḵw lands at the foot of the Burrard Street Bridge will contribute to the future prosperity and well-being of the Nation in his talk: Our land, our spirit, our story: The Squamish Nation's return to Sen̓áḵw. This free event will be moderated by Nahlah Ayed, host of CBC Radio's Ideas.
When: Tuesday, November 29, 2022, 6:30 – 8 pm
Where: Attend in-person at VIU's Malaspina Theatre (Building 310 on VIU's Nanaimo campus) or join us via Zoom webinar.
Free parking is available in Lot G from 5 to 9 pm.
Doors open at 6 pm, event starts promptly at 6:30 pm. The talk will be followed by light refreshments in the lobby.
VIU's Indigenous Speakers Series, delivered in partnership with CBC Radio's Ideas program, began in 2015 to mark the release of the final report of the Truth and Reconciliation Commission (TRC). It is held every fall at the Nanaimo campus, on the traditional territory of the Snuneymuxw First Nation. For more information, visit events.viu.ca/indigenous-speakers-series.
About Wilson Williams (Sxwíxwtn)
Sxwíxwtn is a three-term Squamish Nation Councillor and is one of two appointed Spokespersons for the Squamish Nation. Sxwíxwtn is a proud Nation Member who was born and raised on the Skwxwú7mesh Úxwumixw homelands. He is passionate about the Nation's rich history, culture and language and believes in giving back to the community. Sxwíxwtn is a strong advocate for the Nation's youth, to help ensure a bright and positive future. He believes deeply that this future is achieved by respecting and understanding the Nation's past, to inform decisions that will carry the Nation forward. He also volunteers his time as the President of the North Shore Indians Lacrosse Society and head coach of the Squamish Nation youth girls' basketball program. Most importantly, Sxwíxwtn is a loving husband and father to three girls. He currently resides in the village of Xwemelch'stn on the North Shore.