Description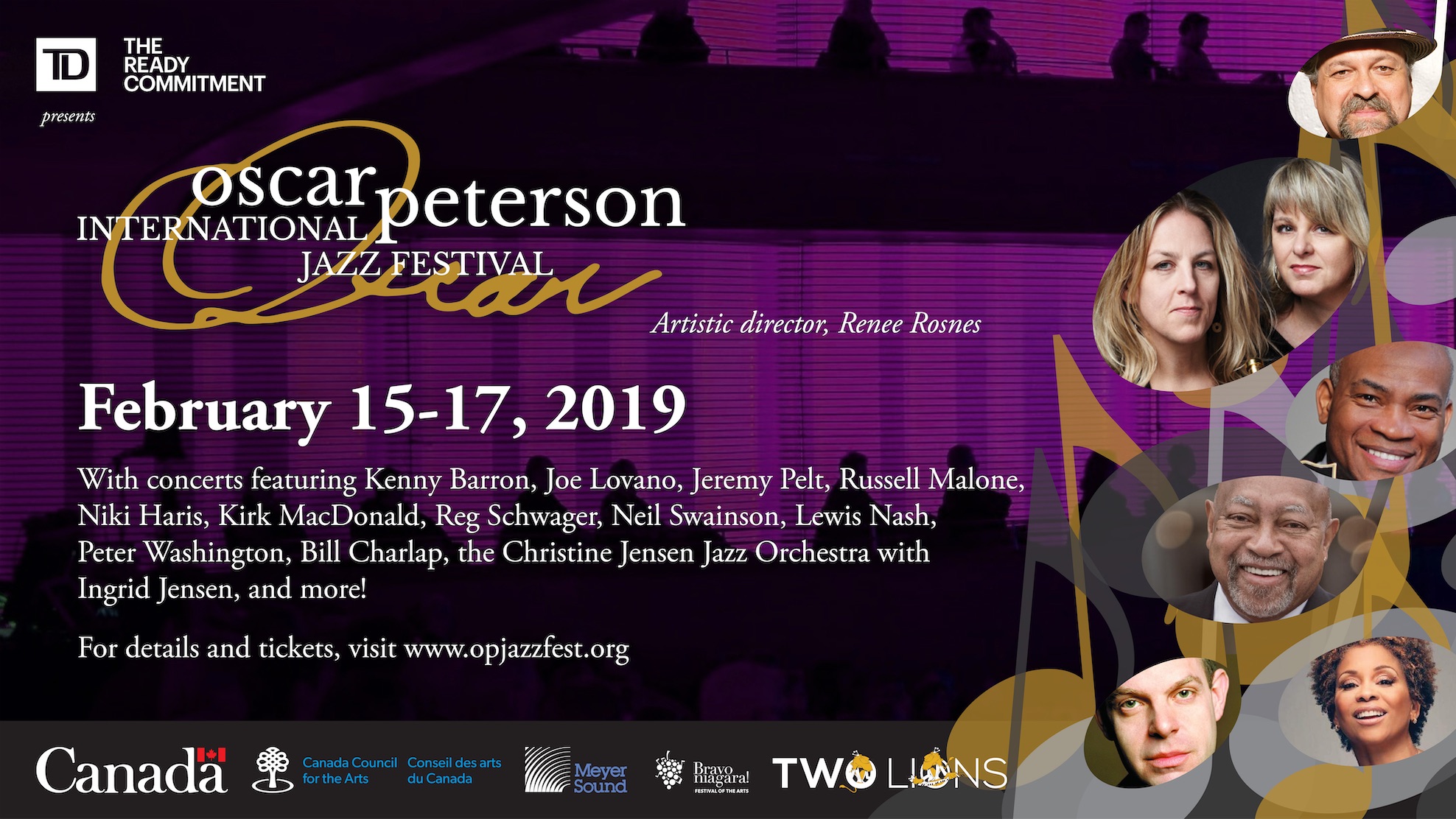 VIP Oscar Peterson International Jazz Festival Pass
$192 + HST and service fees
Includes 20% discount on admission to all concerts
VALUE: $240 + HST and service fees
February 15, 2019 (8pm) – Christine Jensen Jazz Orchestra featuring Ingrid Jensen
St. Mark's Anglican Church, Niagara-on-the-Lake, Ontario
Value: $80 + HST and service fees – Premium reserved seating

February 16, 2019 (1pm) – Lecture & Performance by Bill Charlap - George Gershwin: The Blues and the American Soul
Cairns Recital Hall, FirstOntario Performing Arts Centre, St. Catharines, Ontario
Free event - reserved seating

February 16, 2019 (8pm) – Singin' and Swingin': A Jazz Summit
Joe Lovano, Jeremy Pelt, Niki Haris, Renee Rosnes, Russell Malone, Peter Washington, Lewis Nash
Partridge Hall, FirstOntario Performing Arts Centre, St. Catharines, Ontario
Value: $75+ HST and service fees (Orchestra centre seating Rows G-M)
February 17, 2019 (1pm) – Music with No Borders
Kenny Barron, Kirk MacDonald, Reg Schwager, Neil Swainson, Lewis Nash
Stratus Vineyards, Niagara-on-the-Lake, Ontario
Value: $85+ HST and service fees - Premium reserved seating + glass of Stratus wine
3-Day Regular Oscar Peterson International Jazz Festival Pass
$161.50 plus HST and service fees
Includes 15% discount on admission to all concerts
VALUE: $190 plus HST and service fees
February 15, 2019 (8pm) – Christine Jensen Jazz Orchestra featuring Ingrid Jensen
St. Mark's Anglican Church, Niagara-on-the-Lake, Ontario
Value: $60 + HST and service fees – General admission

February 16, 2019 (1pm) – Lecture & Performance by Bill Charlap - George Gershwin: The Blues and the American Soul
Cairns Recital Hall, FirstOntario Performing Arts Centre, St. Catharines, Ontario
Free event – Reserved seating

February 16, 2019 (8pm) – Singin' and Swingin': A Jazz Summit
Joe Lovano, Jeremy Pelt, Niki Haris, Renee Rosnes, Russell Malone, Peter Washington, Lewis Nash
Partridge Hall, FirstOntario Performing Arts Centre, St. Catharines, Ontario
Value: $65+ HST and service fees (Orchestra centre seating Rows N-T)

February 17, 2019 (1pm) – Music with No Borders
Kenny Barron, Kirk MacDonald, Reg Schwager, Neil Swainson, Lewis Nash
Stratus Vineyards, Niagara-on-the-Lake, Ontario
Value: $65+ HST and service fees – General admission + glass of Stratus wine
For more information about the Oscar Peterson International Jazz Festival concerts and events, please visit www.opjazzfest.org.
OPIJF Festival Passes include admission to all events. Please bring Eventbrite Pass confirmation to opening night concert on February 15, 2019. Tickets for all events will be held for pickup at the Oscar Peterson International Jazz Festival table one hour prior to the concert on Friday, February 15, 2019 at St. Mark's Anglican Church in Niagara-on-the-Lake.
Ticket policy: Please note that all individual ticket sales are final. There are no refunds, exchanges, or cancellations. All artists, programmes, dates, times, venues, and prices are subject to change without notice. Bravo Niagara! regrets that tickets not used due to inclement weather or traffic delays cannot be refunded, exchanged, or returned.
Premium reserved seating: Row assignments will be given upon check-in at the Friday and Sunday concerts, and seat assignments will be listed on the tickets for both events at the FirstOntario Performing Arts Centre.
General admission seating: Does not include pre-assigned seat assignments.
Date and Time
Refund Policy