NLP Skills: Engineering Influence - Live 2 Day Masterclass, Calgary Alberta
This is the Ultimate Introduction into Neuro-Linguistic Programming and the world of reading, understanding and persuading people!
About this event

Early Bird Discount - Save $100.00
Enter Discount Code "VIP100" in the "Promo Code" section on the next page.
Offer ends on October 27, 2021
Learn in two days what others might never learn in a lifetime!
Who is this training for? Absolutely anyone who needs to influence others easily and effectively! What you will learn in two days, others may not learn in a lifetime.
If you are someone who invests in themselves, wants to close more business, be fearless in a presentation or simply get the life you want then this is the information that works for you!
What do you need to be successful when learning NLP?
You need to have a degree of ambition, courage, discipline and honesty, and a desire to make the very best of your life beginning right now!
What skills will you learn?
Advanced knowledge to improve your communication and influence skills, secrets to improve your emotional flexibility and resilience, and ways to develop a multitude of skills to improve your mental state so that you can achieve peak performance in the context that is right for you.
NLP gives you the skills to become both more successful and feel more fulfilled.
How Will This Program Benefit Me?
Benefits your business and personal life
Benefits your confidence at being persuasive
Benefits your mental health and wellbeing
Benefits your ability to deal with difficult people
Benefits your ability to become irresistible
.... And so much more
NLP is the study of excellent communication, both with yourself and with others. It was developed by modeling excellent communicators and therapists who got results with their clients. NLP is a set of tools and techniques.
But now it is so much more than that.
It is an attitude and a methodology of knowing how to achieve your goals and get results quickly. It is the ability to decide what matters to you, help others understand why it matters to you and then have them support those ideas.
You will also benefit by:
Having your ideas heard
Gaining respect from others
Getting buy-in to your thoughts and suggestions
Having others listen when you speak.
Reading the emotions of others to truly understand what they are thinking and saying.
If you are a Therapist, Coach, Manager, Sales Professional or in any position that requires you to influence others, motivate change in behaviour or get people to collaborate and achieve a common goal, then this is the information that works for you.
Because communication is reciprocal, you need to skillfully listen and decode all the signals being relayed to you, from the other person. These signals include verbal, non verbal and body language communication skills.
Become more confident, happier and persuasive and also utilize these skills to help others become the best that they can be. Help others delete the discouraging words, let go of the negative self chatter and help them quickly move forward towards achieving more sales, collaborating more effectively or simply become more positive in their thinking.
Seating is very limited and will sell out so register today!
What Will I Learn?
Presuppositions of NLP
NLP Communication Model
Creating Well Formed Outcomes
Anchoring
Eye Access Cues
Decoding Other People
Changing Personal States of Mind
Overcoming Limiting Beliefs
Motivation Strategies
Learning Strategies
Reframing Thoughts
Integration of Successful Thinking
Linguistic Presuppositions
Hierarchy of Thought
The Meta Model
Waking Trance States
Conversational Hypnosis
Chaining Anchors
Dealing With Negativity
Dealing with Trauma
Eliminating Fears, Phobias, Stress & Anxiety
Non Verbal Influence (Decoding Body Language)
About Eliot
For more than 25 years, Eliot Hoppe has worked Internationally with several leading practitioners of psychology and human influence including Dr. Kevin Hogan and Dr. Will Horton. He is on faculty with Mount Royal University in Calgary Alberta, and Advisory Board Member for Mount Royal University's Continuing Education Program as well as Registered Clinical Hypnotherapist and Certified Trainer in Neuro-Linguistic Programming (NLP). His workshops and seminars help in his quest to empower positive change in others.
Eliot Hoppe's reputation is known for being one of the world's expert corporate peak performance trainers and persuasive linguistics coaches. He is highly sought after for his fun, fast paced and exciting presentation style, filled with real life examples, demonstrations and even magic to deliver a memorable and educational experience for all audience members.
His client list is extensive from Fortune 500 to SMB companies and his programs appeal to everyone. He's coached on communication, presentation and peak performance skills with leading political figures, athletes, leading executives and HR management teams. Some of Eliot's clients include TELUS, Nexen, 3M, AED, Blumberg Capital, AMBA, Rogers, Winners, NEWALTA, Western Financial, Bell, Umpqua Bank, HRPA, Corning, HRMA, Aggreko, USB, CREB, Allegiance Staffing, M&M, Glentel and Shell.
​Eliot Hoppe teaches how to decode the mind decision making criteria, communicate with ease and ethically influence change. Eliot has trained internationally and his message is clear "You can not change your circumstances until you change the way you think!" because your thoughts influence your behaviour, attitude and emotional states.
​ Your experience will be unlike any other and is surely guaranteed to please you and help produce everlasting positive results.
Join us in Calgary for this LIVE event!
Holiday Inn & Suites Hotel University Area Calgary
Free Parking
Steps from Banff Trail CTrain Station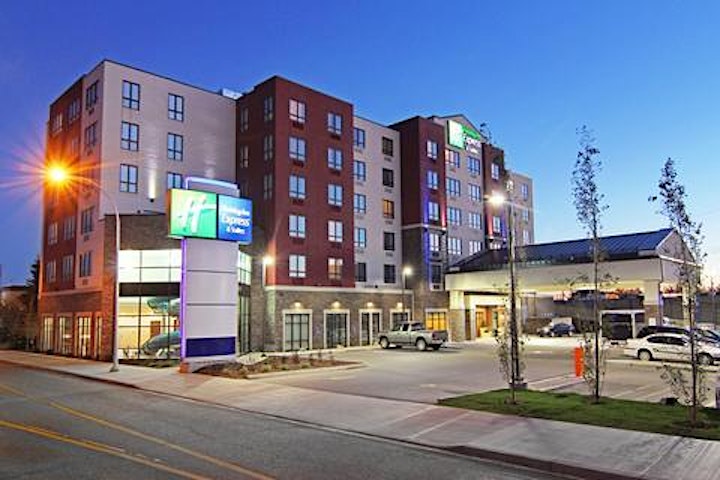 Organizer of NLP Skills: Engineering Influence - Live 2 Day Masterclass, Calgary Alberta